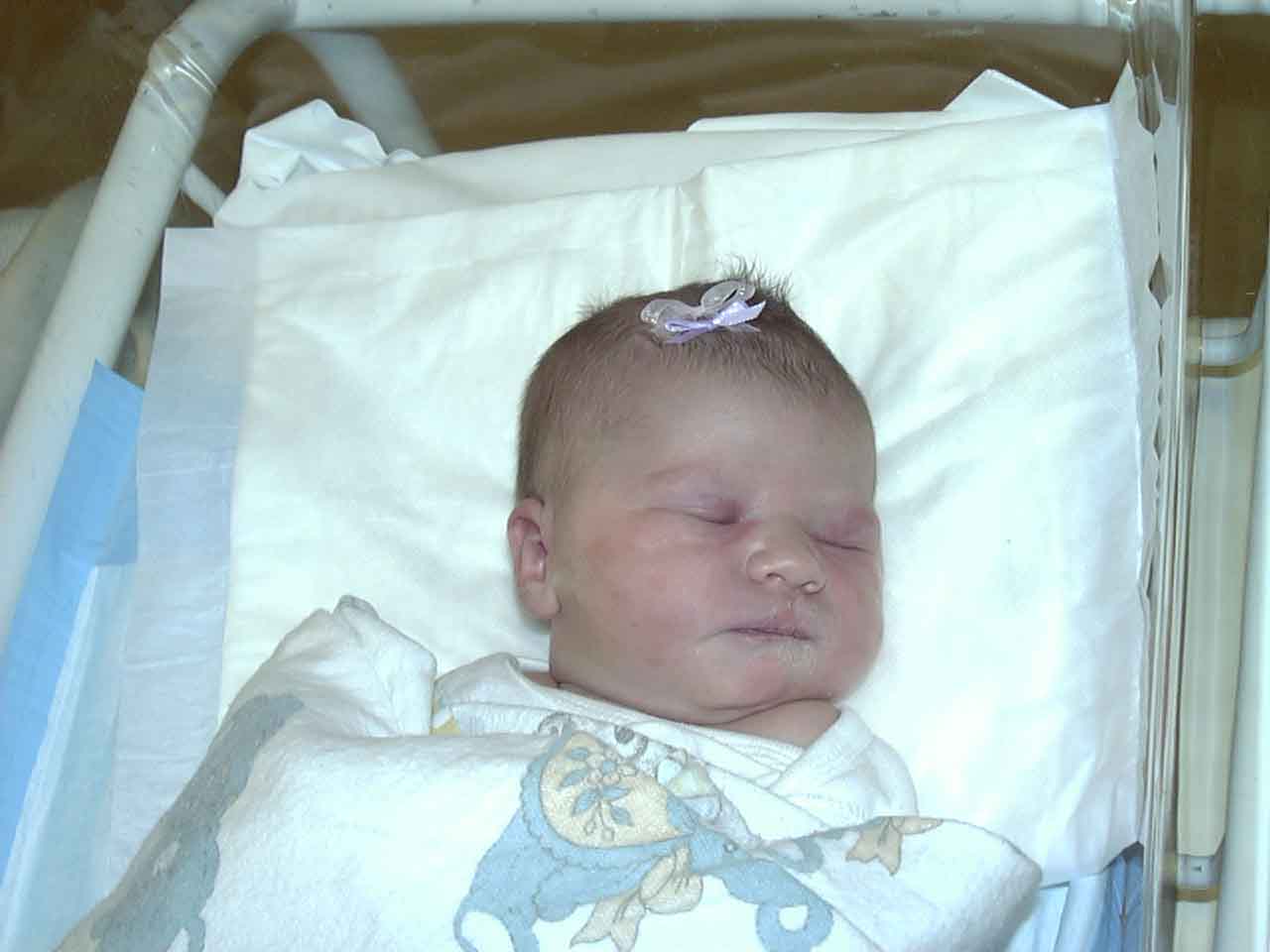 It seemed like it was going to be such a normal evening. We had spaghetti for dinner and watched Ferris Bueller's Day Off. I highly recommend that film. After dinner, Rebecca went to take her evening bath, and then I gave Ethan his bath and we put him to bed.
Around 9:30 pm, Rebecca started complaining about abdominal pains. She said they felt like a cross between cramps and gas pains, and were coming and going. It turns out she was having these pains since her bath, but didn't mention them until they got worse. I asked how far apart they were, and she didn't know, so I started writing down the times she started complaining about them in my Pocket PC. They seemed to be coming in 5 – 6 minute intervals, so I paged the midwife on duty, and she called back and asked some questions from Rebecca. Julie the midwife suggested taking a warm bath to see if it would help the pain and make the contractions come on a more regular interval. She also said that she was going to call the hospital to let them know we were coming in.
By 10:30 pm, I was writing down a time every 3 minutes. I called my sister Laurel, who previously volunteered to watch Ethan while we were in the hospital, and let her know what was going on. She said no problem, she would be up, and to call when we were leaving. The time was around 11:00, and I started getting the bags ready to go, making sure we had everything packed, putting in the last minute items. I then took the bags down to the car, then came upstairs to get Ethan and Rebecca. Ethan had been sound alseep for 2 hours, and slept peacefully in my arms while I was taking him down the stairs. Rebecca was walking her dog Chewy, and we went at a pace that was suitable for her. Once downstairs, Ethan lying with his head on my shoulder suddenly looked up and stuck his arm out, pointing at the cars, and started saying "Vroom vroom," his new phrase to say when he sees anything with wheels. He was wide awake from that moment on.
The drive to Laurel's house was uneventful, as she only lives 5 minutes away, aside from the continual contractions Rebecca was experiencing. Laurel was talking to our younger sister Liesl, who actually has her birthday on 4 May. Liesl was quoted as requesting that Rebecca has the baby before midnight. We dropped Ethan, Chewy, and their bags off, and were on our way to the hospital by 11:45 pm. During the day, State Street is the busiest road in the city, with a speed limit of 45 MPH, and people will pass you even if you go 55 MPH (not that I have experienced this firsthand…) Well, at night, quite the opposite occurs. I was driving 45 MPH and passing all the other cars on the road.
We arrived at American Fork Hospital around midnight. We walked up to the main entrance, and the sign said after 9:00 pm to check in at the Emergency Room, so we walked around the corner to that entrance. As there was nobody at the desk when we went in, I rang the bell for assistance. The lady in the ER said it was not necessary to go through her entrance, and that we should've gone right into the main lobby, but since we were there she had Rebecca sit in a wheelchair and pushed her up to the labor & delivery floor. We went into a Triage room for them to check the baby's pulse and contraction strength, and Sarah, the nurse, started asking the standard Check-in questions. There were a lot of questions, and when she finally finished, she said "Let's see how far you've dialated." She checked, and exclaimed "This baby is ready to come out! You're already at plus one," meaning the head was already in position. She had another nurse page Julie and, hoping we had enough time to get into a delivery room, asked Rebecca to get into another wheelchair to transport her there.
When we got into the room, and I told Rebecca I wanted to go back to the car to get the camera, to which she replied "RUN!" I ran all the way, aside from standing in the elevator (I guess I could've run around in circles in there, but why?) When I reached the car, I saw a white pickup truck pull up and a woman got out and ran into the hospital, so I quickly grabbed the bag and followed her back in. In the elevator, she asked if I was Kyle, and commented on how quickly Rebecca had progressed from the time we called her. We got into the delivery room together, I pulled out the camera, and Julie told Rebecca that she could push now. At her next contraction, she pushed and the baby popped out. They later joked on how Rebecca only "half-pushed." Julie placed the baby up on Rebecca's stomach, and told us we had a girl.
Tyra Nicole Andelin was born on 5 May 2004, at 12:31 am MDT. At birth she weighed 7 pounds, 1.2 ounces, and was 19 ½ inches long.
We were told we'll eventually need to move to a recovery room, and were allowed to keep the baby in the delivery room until about 2:00 am. The nurses took her to the nursery to clean her up, take her vitals, and make sure she was okay. I went in with them, and by about 3:00 am, I was falling asleep standing up, waiting for them to finish. Rebecca was in the recovery room waiting for us, so she stayed awake as well. When Tyra and I finally went back to the recovery room, the three of us were able to have a short rest. I think Tyra slept the best, then myself, since Rebecca was having post-birth cramps, but she'll be fine.
Tyra has been a wonderfully quiet child since birth, only complaining once at the hospital when they took her temperature. She slept most of the day, waking up a few times when she needed her diaper changed or a feeding.
She was visited by her big brother Ethan, who came in with Laurel and her three children. When Ethan first saw her in her crib, he pointed and said "doggy," but when I put him up on the bed for a closer look at his baby sister, he pointed and said "baby!" He then proceeded to try and grab her face. He'll make a fine big brother, once he understands we're keeping her.