Even though this trip to California, has been because of the death of a family member we felt like we needed to make sure to do something fun for the kids' sakes. So we decided to go to Legoland. None of us have ever been, and Ethan being obsessed with Legos, has been wanting to go for years. We found some coupons that get kids in free with a paying adult, and so after we figured out who would be going with us I think we had enough adults to get each of the kids in free. And the littlest kiddos were free anyway.
The first thing ride we came to in the park, the four littlest kiddos (James, Adam, Rexton and Denzel) were too small to go on so Grandma and Grandpa offered to sit with them, while the rest of us took the older kids on the ride.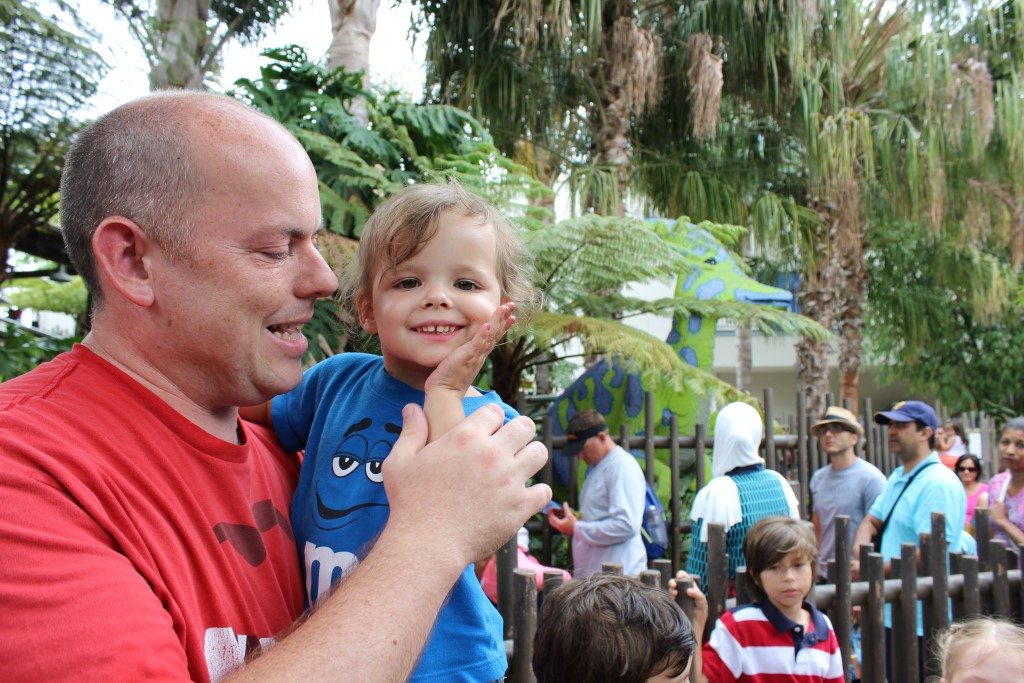 When we got off the ride we spent a few minutes looking for Grandma and Grandpa and the little ones. It turns out they wandered around with them and got some treats for the little ones while they waited. Next up we went on a ride that was very similar to Disneyland's Storybook land boats, only all the story book scenes were made out of legos.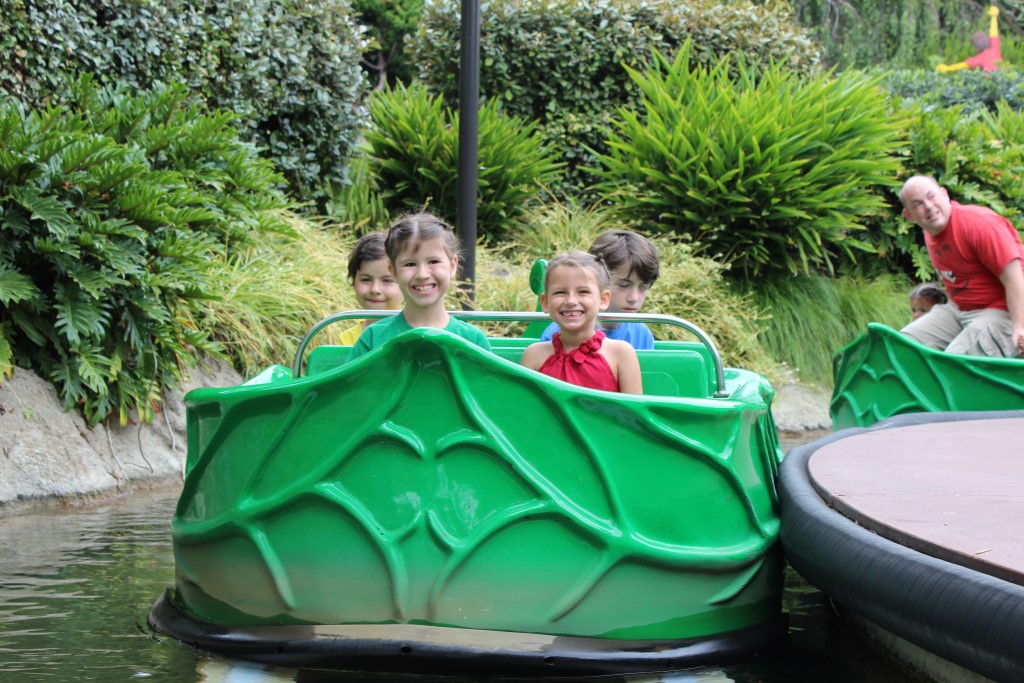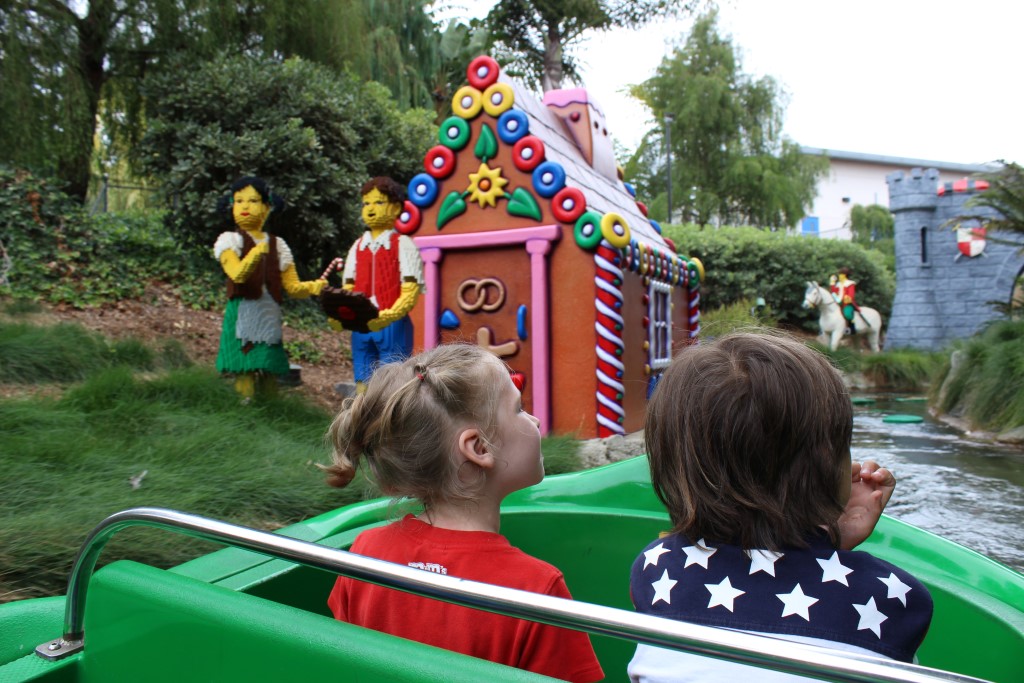 While we waited for the kids to be done having a potty break we hung out with some squirt toys and fountains where you could spray Lego displays.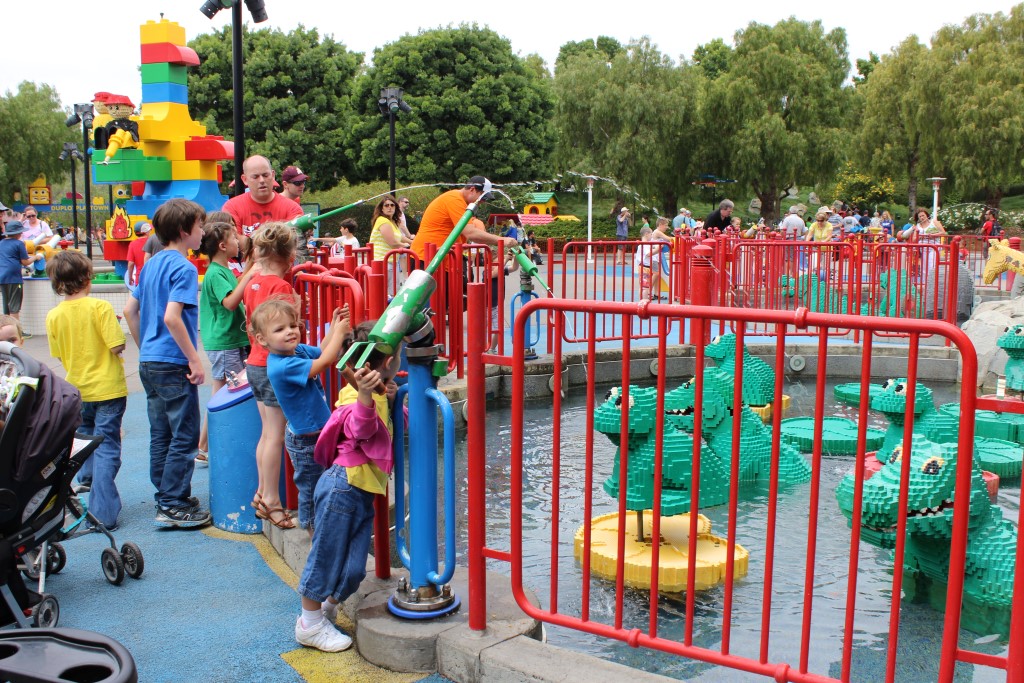 Then we went into a building where we found the very table of Legos they used in the Lego Movie! Around the rest of the room they had it set up like the basement scene in the Lego Movie as well, it was pretty cool. The kids loved it because we have seen the movie. My parents haven't seen the movie so it was all new to them.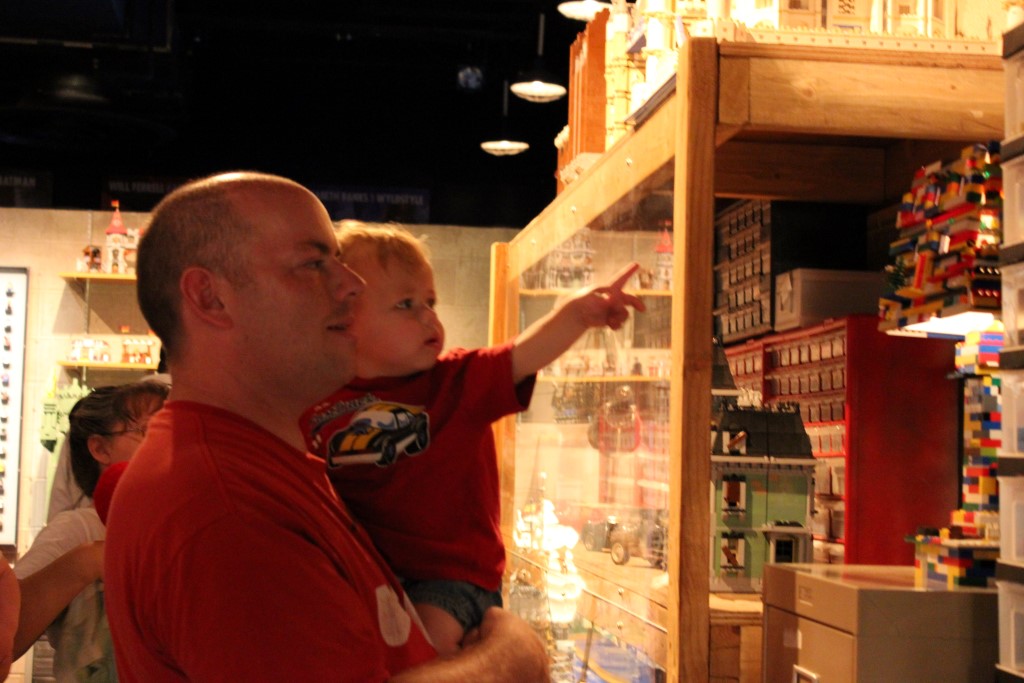 After studying the map a little bit we decided to split the group up for a bit. There was an area where the younger kids could play, and the next area of the park was made up of a bunch of rides that only the bigger kids could go on. So I stayed with my parents to help watch Lydia, James, Adam, Rexton and Denzel, while Kyle, Jenny, Tiffany, and Debby took Ethan, Tyra, Tommy, Jeremy, Annaleah, Dinah, and Chloe to go on the rides.
In the play area for the younger kids there were several playplace type pieces of equipment for the kids to play on, and there were a couple of huts with these HUGE rubber Legos for the little kids to play with. The whole area in general was NOT designed by anyone with kids. There were too many ways in and out, which means that you can take your kids in one way and sit down to watch them, but there were several ways out that you had to be constantly watching to make sure your kids don't escape without your noticing. I really liked the huts with rubber Legos. Those at least there was only one way in, so I could sit at the entrance and make sure that Adam and Jimmy didn't escape, while Mom and Dad took care of the other little kiddos.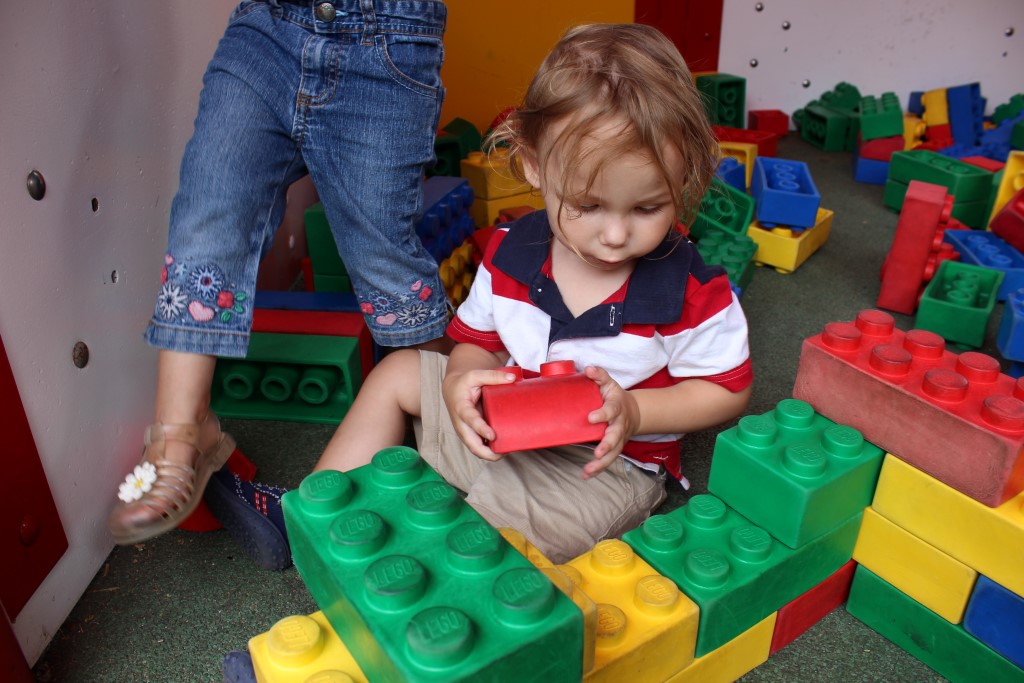 Aren't those giant Legos awesome? I really liked this Lego Mariachi band too. 🙂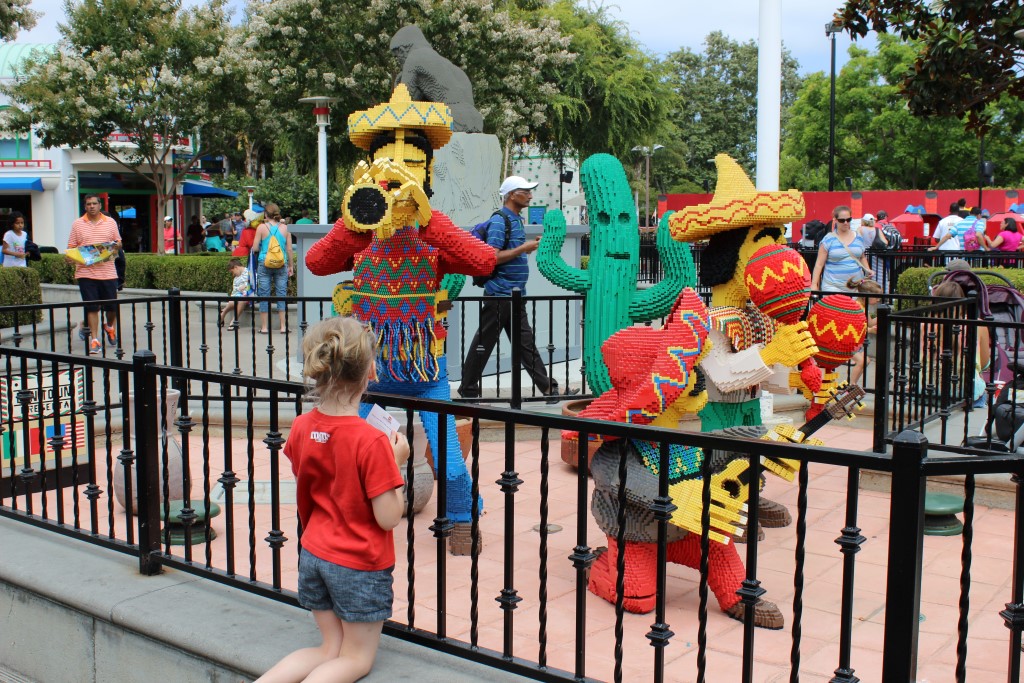 Jeremy with Lego Chewbacca: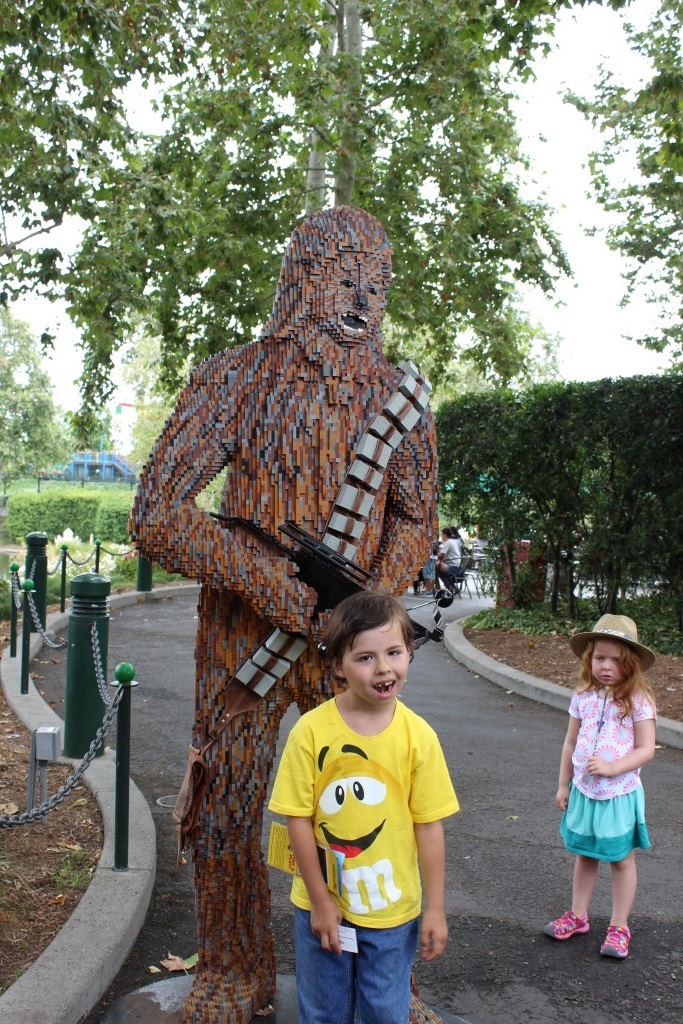 Grandma with Lego Elvis: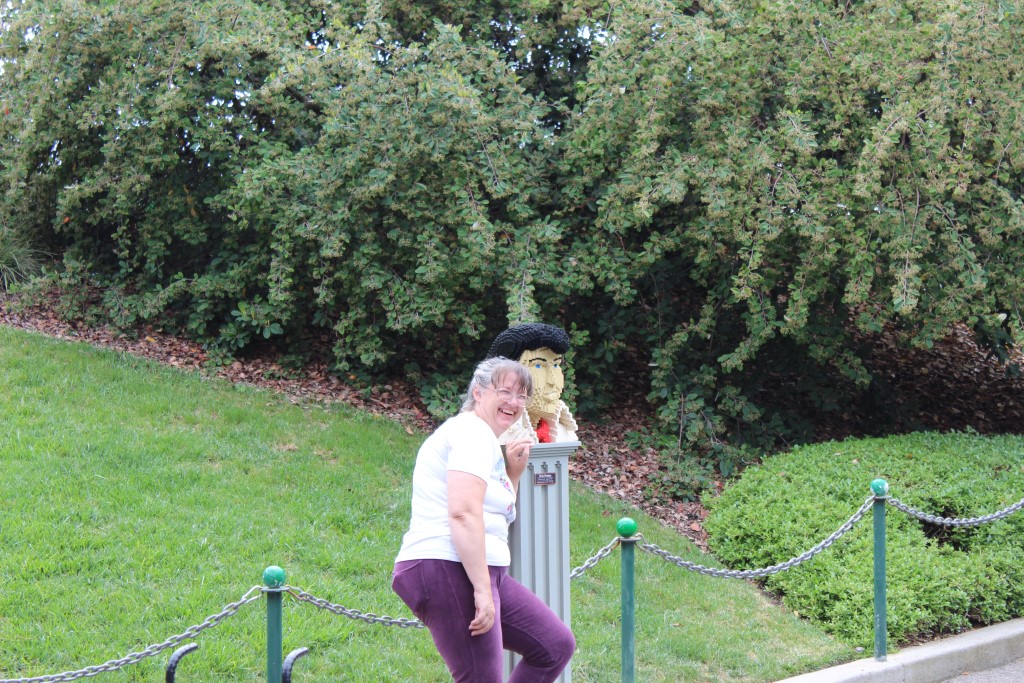 Then it was snack time. We found this snack shack that sold apple fries. They were just amazing! Granny smith apples cut up like french fries and fried, served with lightly sweetened whipped cream. YUMM!
We were in the pirate themed area of the park and a princess was walking by, so the girls HAD to get pictures with her.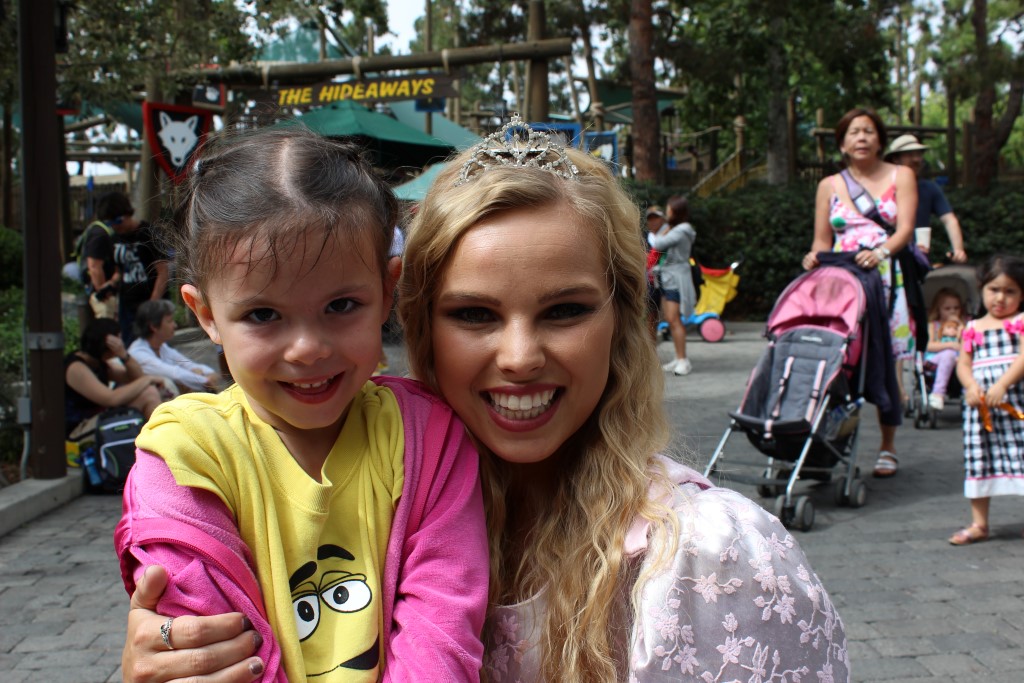 There was another playground for the kids to check out. This one pirate themed and somewhat resembling a pirate ship. At least this one only had one way in/out. But it took awhile to gather up all of the kids and get them out of there so we could continue on our way through the park. Next up were the pirate rides….which meant water.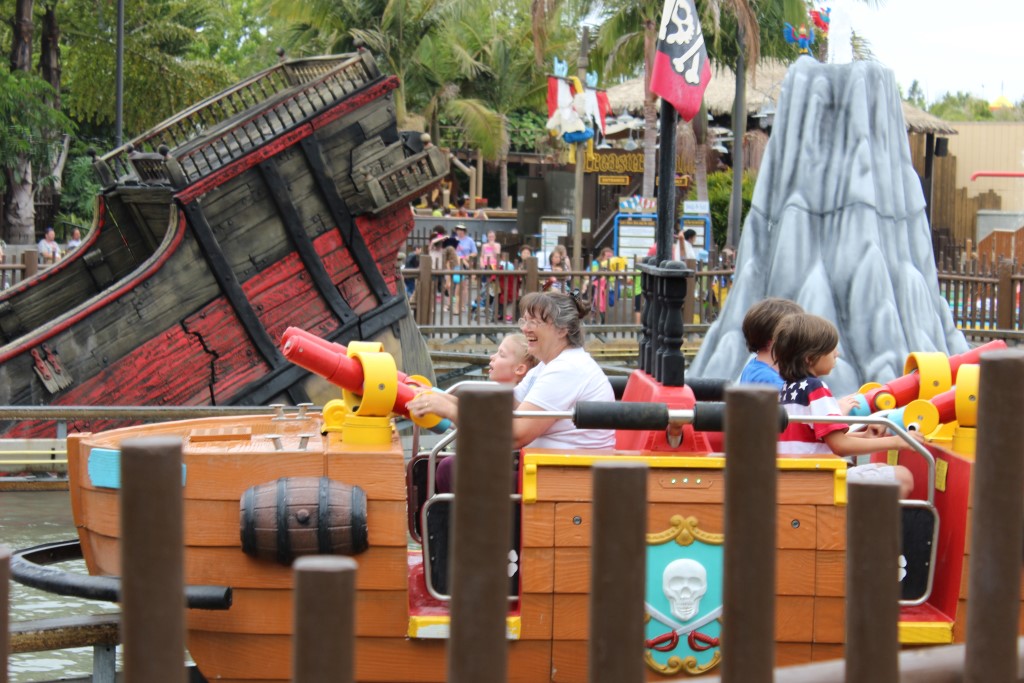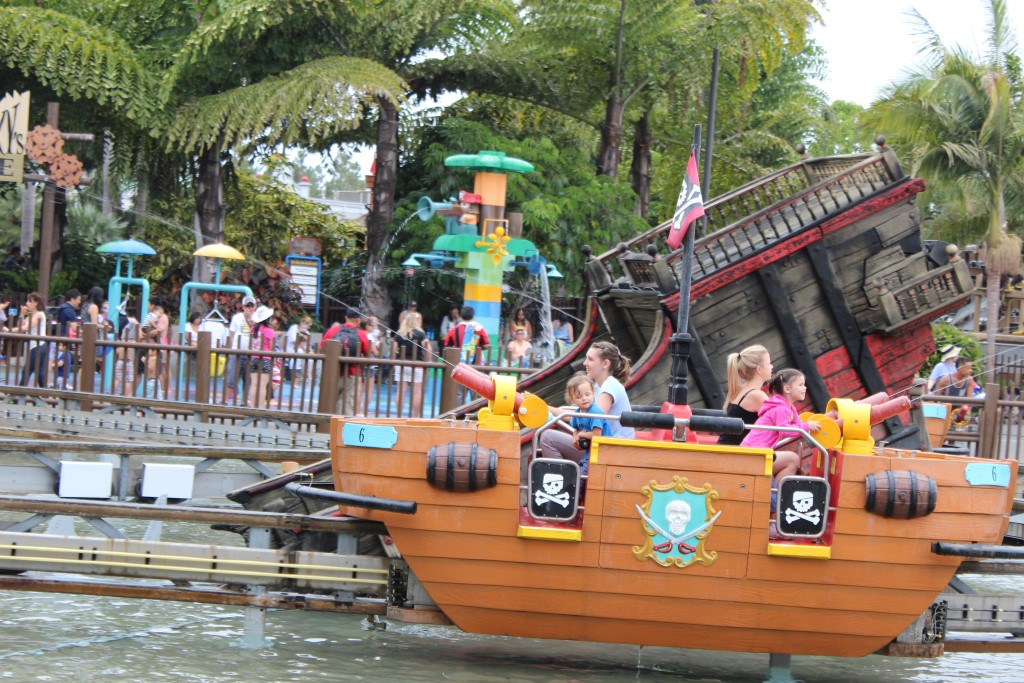 About dinner time we came to the medieval themed area of the park. We had dinner at a restaurant that was offering free kids meals with the purchase of adult meals. Then some of the adults took the kids to go on a jousting ride, while the rest of us were changing diapers.
We were running out of time now, and there was a roller coaster that only the oldest of the kids could go on. So Kyle took them to do that while the rest of us continued on to find some things for the younger kids to do. We were able to take them to do a couple of other rides, and then Grandpa let them go fishing while we waited for Kyle and the big kids to catch up.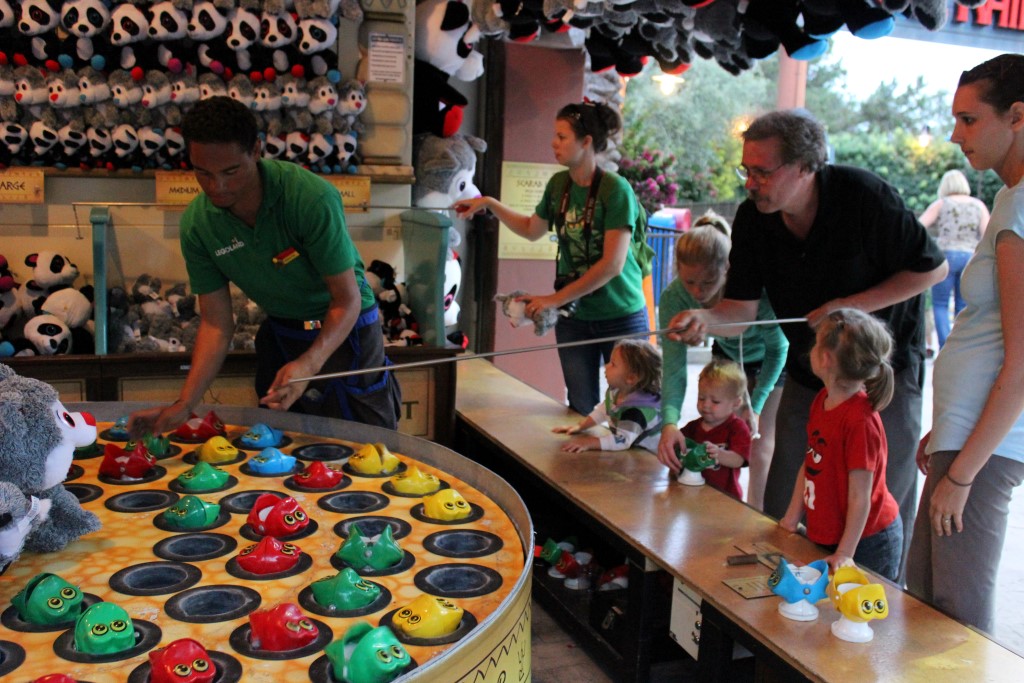 Kyle and the big kids finally caught up to us, I finished collecting smashed pennies for each of the kids (they have started a collection, but they only get to pick one each place we go that does them), and then it was pretty much closing time. The girls had to get a picture with the Lego Friends on our way out though: