Last night, after Weston and his helper left, the kids got to open their Christmas jammies packages.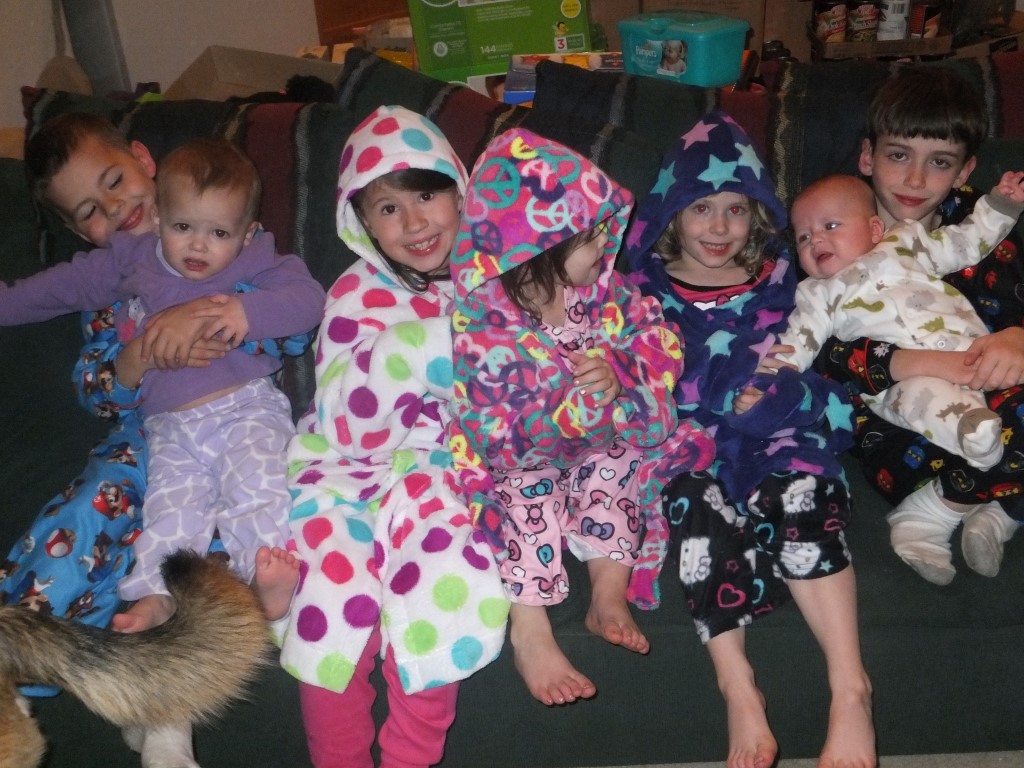 We got the girls bathrobes this year. They all really like my bathrobe, and I remember being their age and wanting a fluffy bathrobe to wear. We looked for bathrobes for the boys too, but the ones we could find were really lame. Like giant balls all over them or skulls and crossbones. I WON'T buy anything that has skulls and crossbones on it, and my boys aren't really into sports so the balls didn't seem right either. I found EXACTLY what I wanted for robes for the boys in the men's department, but of course they were HUGE. We will have to just keep looking until we find something better.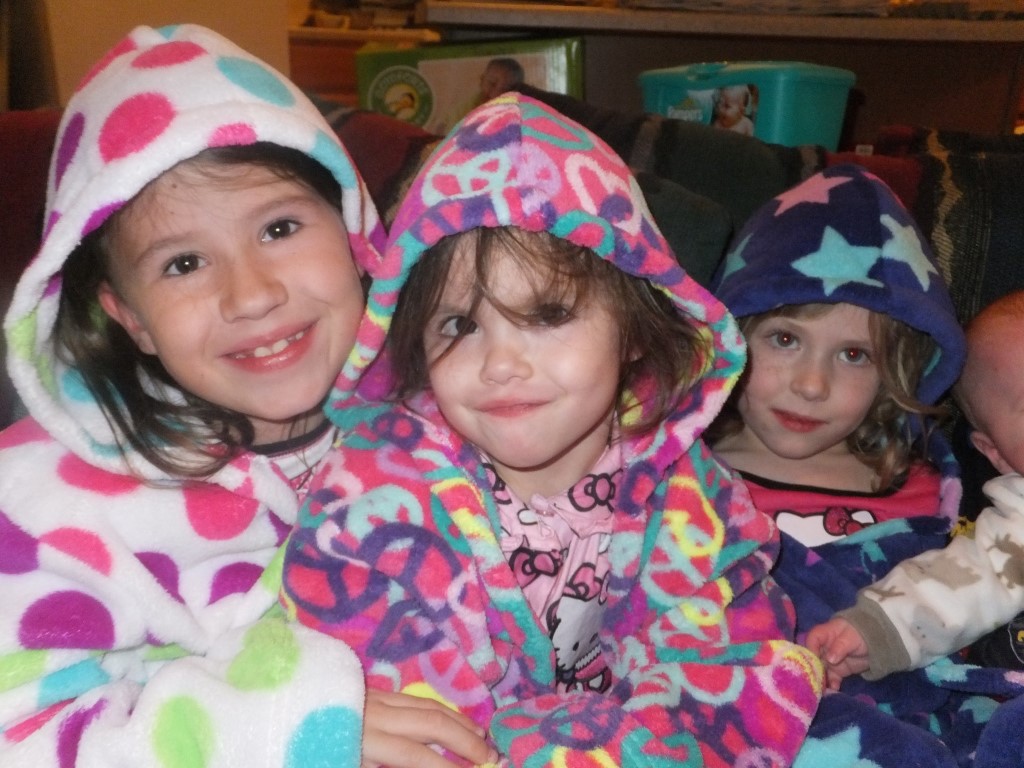 Sometime after the kids went to bed Santa made a visit.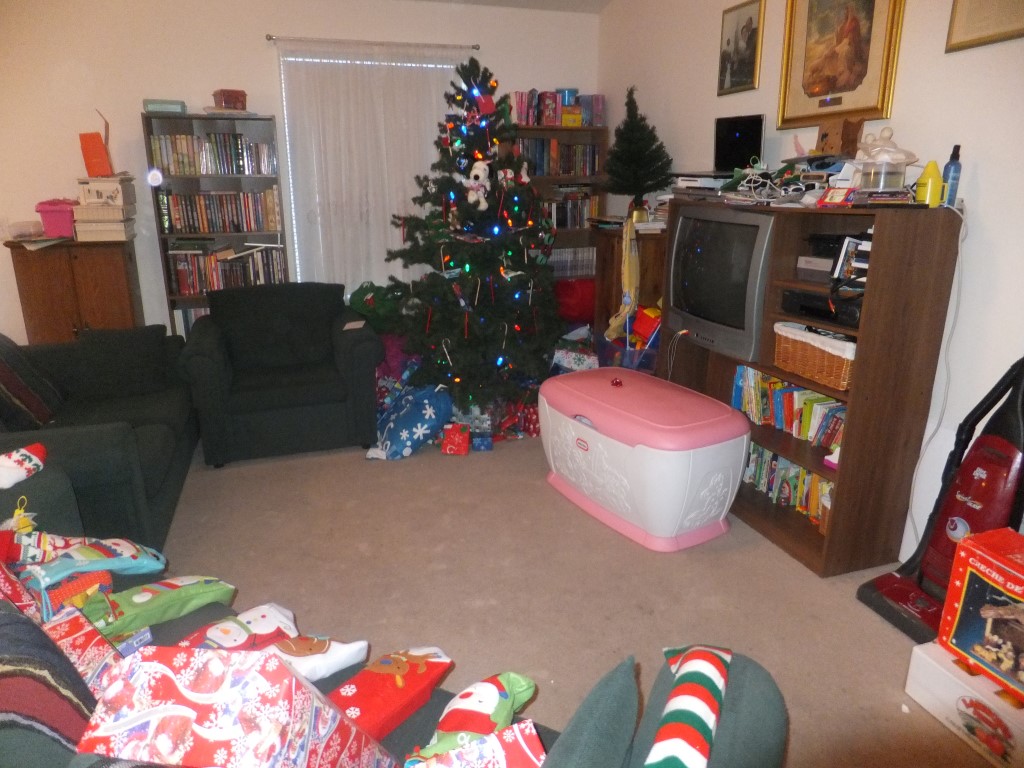 The kids were up early this morning, as usual, and after I popped the turnovers in the oven we let them out into the living room. They checked out the contents of their stockings for awhile, and opened the gifts that Santa had left for them.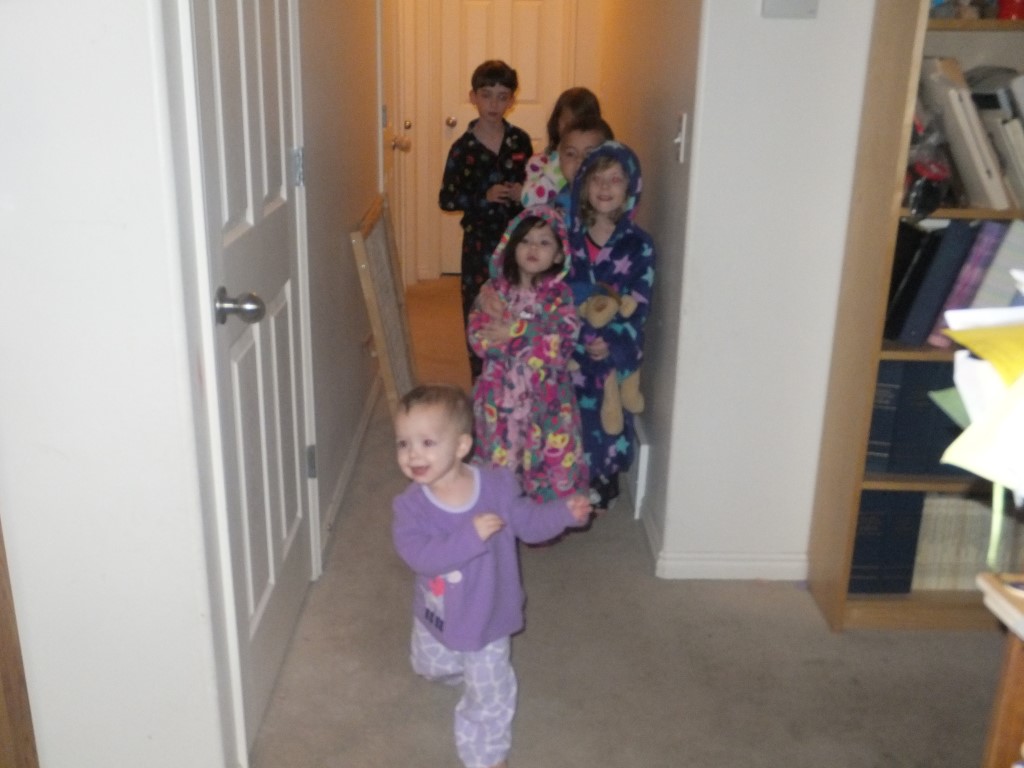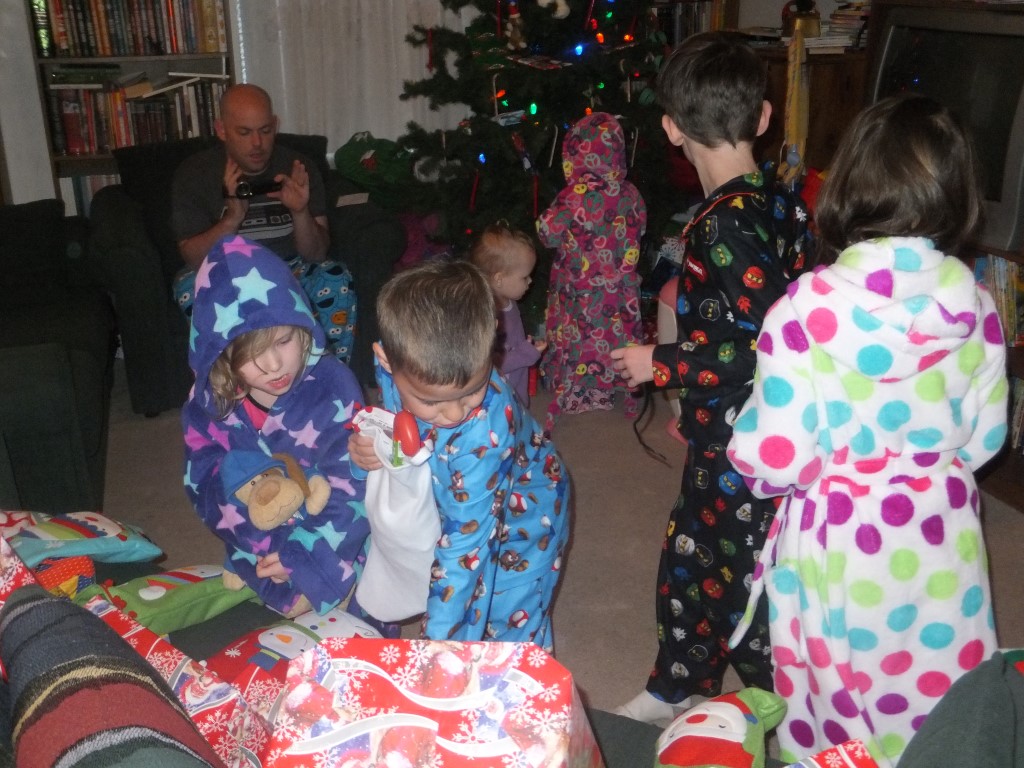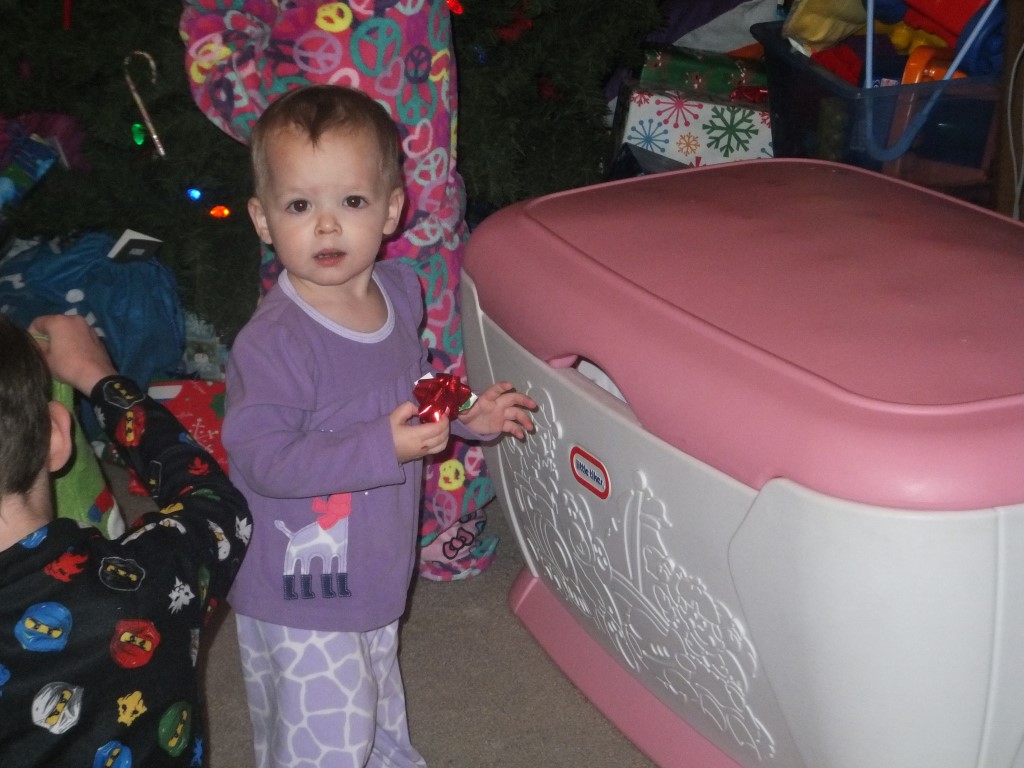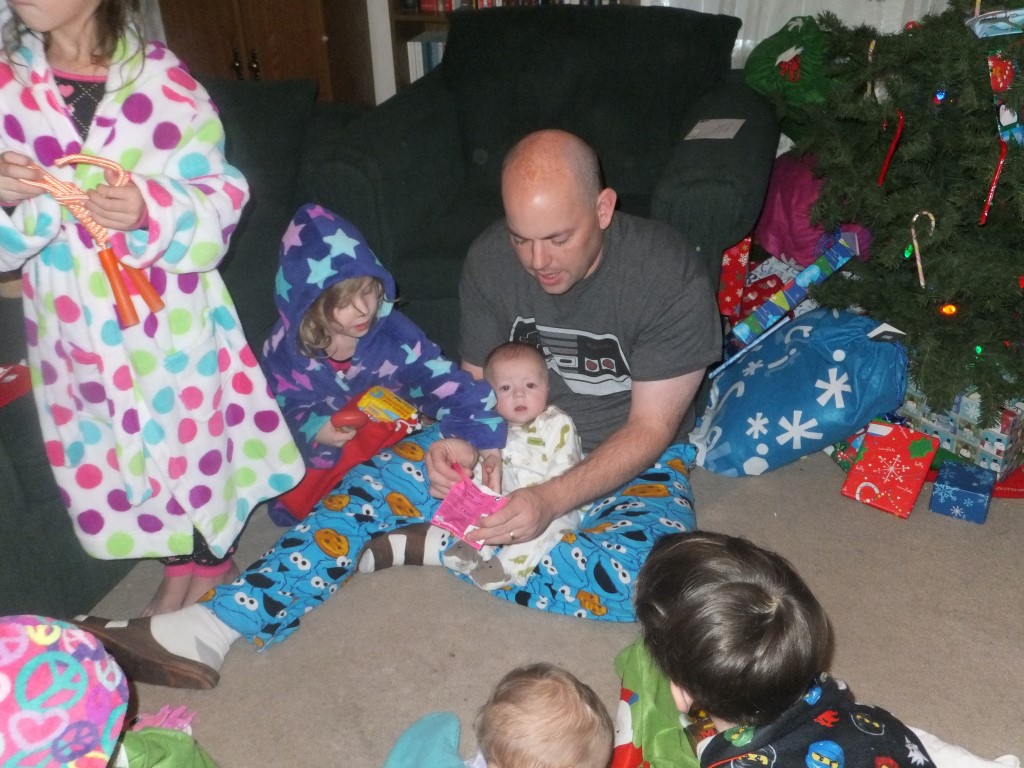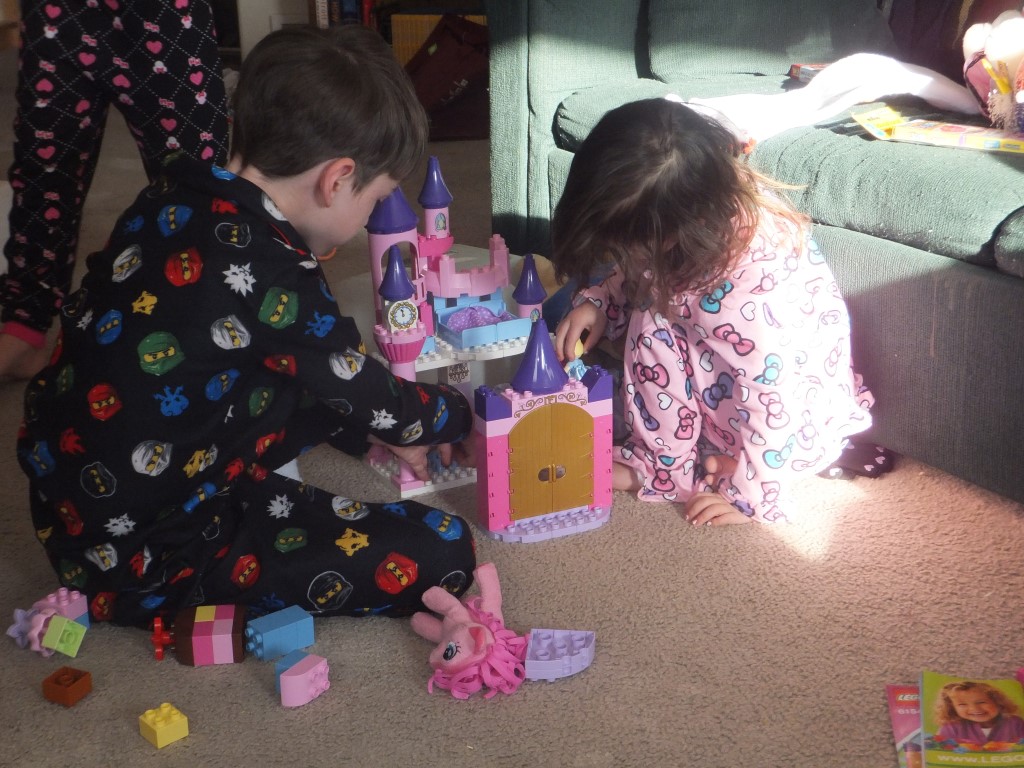 Then we had breakfast, which was really more like Kyle and I had breakfast and the kids kind of picked at their food anxiously awaiting the approval to go open more presents.
When it came time to open the really big packages that my parents sent, the kids were REALLY excited. My parents sent large felt bags with soft presents inside and these peaked the kids interests the moment they saw them come out of the box. The girls also tried to get a peek at what was inside. I caught them before they could get a good look, but I heard them telling the boys what they thought they saw. So when they finally got to open them this morning they were really excited. Then when they saw that they each got a pillow pet they were thrilled.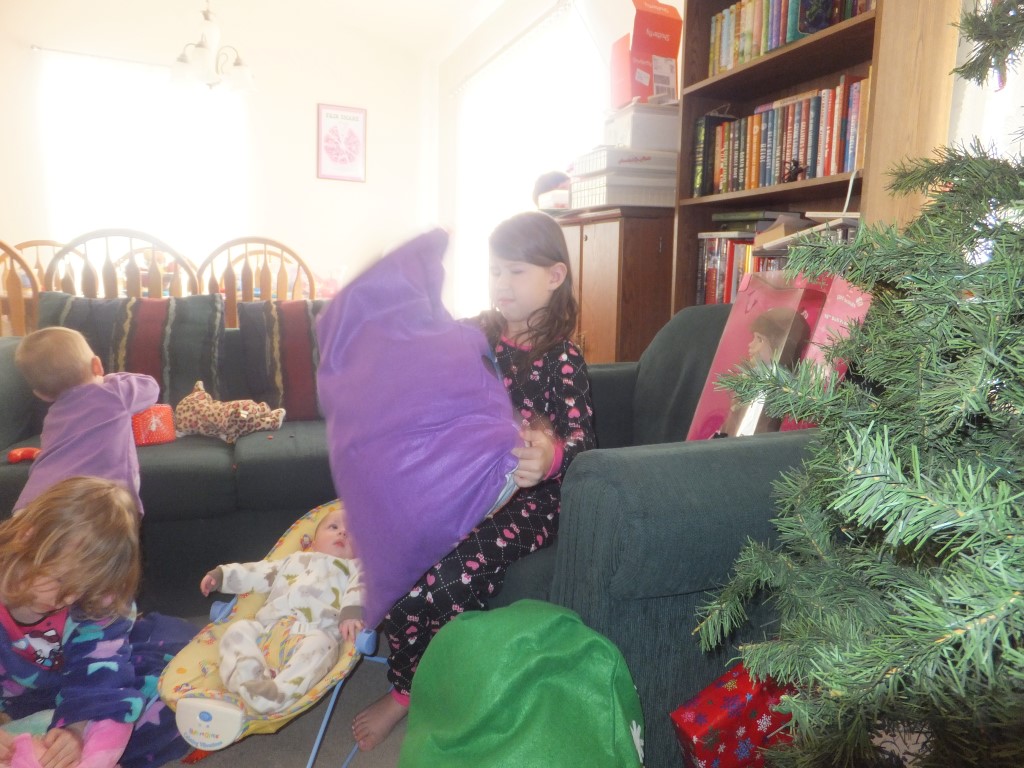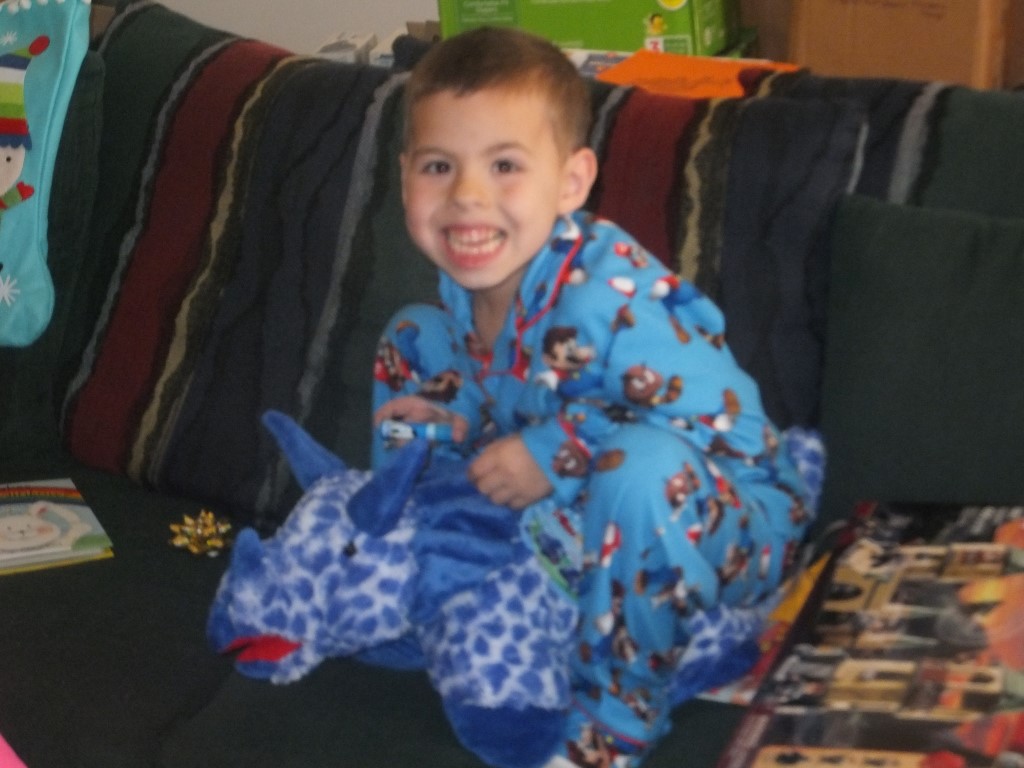 Kyle got the family a PS3 and the Lego Harry Potter games to go with it. Someone also gave us a Mario Party game. I got a lot of cake pop making related presents from my family. Cake pop makers (two), cake pop stand, cake pop decorating station, cake pop sticks, and mixes. You'd think that that they think I like to make cake pops or something. Actually, I've never made cake pops, just cake balls which are completely different. 😛
Debby and Jeff came over this afternoon to open their presents, and have dinner with us. I had Jeff this year and I got him the cologne that he had asked for. The mall had it for $60 but I found the same stuff on Amazon for $16, so I bought it from Amazon. But when it came I noticed that the box was kind of pink, I thought it a bit weird but figured it was just a difference in what the lighting in the picture made it look like. Then Kyle saw it and told me that I bought perfume not cologne. I couldn't return the one I got because it was considered a dangerous liquid, and I ended up needing to buy another bottle. But despite having to buy two bottles, I still spent HALF of what I would have had to spend, buying it in the mall! So I'm ok with that.
For dinner we had turkey and mashed potatoes leftovers. I also made some fresh guacamole for tonight. We were just getting ready to call everyone to the table to serve dinner when Lydia, who was standing on Kyle's chair at the table, threw up. She got it everywhere. She was standing on Kyle's chair, close to the counter and she projected that vomit with so much force that it got almost all the way to the couch in the living room. Ya, so she didn't get to eat, and Kyle just held her for awhile to keep her from wandering around the house. She had had so many cake balls today that her barf was totally chocolate in color. I'm just hoping that we aren't dealing with vomit working it's way around the family for the next week.
All in all it was a good day. I'm so glad that we didn't have to go anywhere, or do anything fancy. And now my house is an even bigger mess than it has been lately.